It was early but Celestia couldn't sleep, and she was eager to take her boys on an outing with her. Admittedly they had been stuck in the Hollows for quite some time, the threat of war looming above them. Celestia had only wanted to keep them
safe
, but she knew that it came with a cost. Today was different though, she wanted to give them a little bit of freedom. They were older now and she didn't feel like she needed to watch them like a hawk. It was meant to be a fun day, just her and her boys. She chuffs lightly before making her way through the caverns,
"Come boys."
She calls gently before beginning her ascent up and out of the caverns. When the sun first hits her face she squints, not being used to the light. When was the last time she had even been out of the Hollows? She smiles, loving the feeling of the warmth on her fur. The air was crisp, hinting to the fall weather that was easily already upon them. Celestia takes a few steps outward, waiting for the boys to catch up with her before she continues further out of the Hollows.
@
Razvan
@
Karsa
nursemaid exp/doubled
+10 - Tell a cub a story
+20 - Take a cub on an adventure x2
---
Celestia is rated M for Mature. Read and interact at your own risk.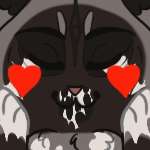 Feel free to give me a reminder if I haven't replied in 5 to 7 days!